Anxiang Du 'slept after killing Ding family of four'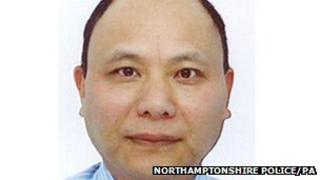 A businessman saw "blackness" as he stabbed a family of four to death in their home and "lay down and slept" afterwards, a jury has heard.
Jifeng "Jeff" Ding, his wife, Ge "Helen" Chui, and daughters Xing, 18, and Alice, 12, were killed at their Northampton home in April 2011.
Anxiang Du denies four counts of murder but admits killing the Ding family.
Northampton Crown Court heard of Mr Du's recollection of events made during an interview with a psychiatrist.
'Revenge' attack
Mr Du, 54, of Coventry, has elected not to give evidence at his trial.
The family was "massacred", according to the prosecution, in a revenge attack after the businessman lost a 10-year legal battle with his former partners Mr and Mrs Ding the previous day.
He was facing a bill for court costs of £88,000.
His defence will assert that all four killings were manslaughter, due to loss of control or diminished responsibility.
The family was not found until 1 May, after Mr Du had already left the UK.
Manchester Metropolitan University lecturer Mr Ding had been stabbed 23 times, Mrs Ding 13 times, Nancy had 11 stab wounds, and Alice had four.
'Feeling hopeless'
Giving evidence in court, Prof Nigel Eastman said Mr Du claimed he had initially bought the knife with the intention of killing himself.
On the day of the killings, Mr Du had seen the knife in a bag at his Birmingham shop and decided to ask the Dings for money.
Asked by the psychiatrist whether he thought about causing them harm, he replied "possibly", the court heard.
"I think that if the Dings had apologised to me I probably would not have done that," Mr Du told Prof Eastman, the jury was told.
"Throughout they never apologised."
Prof Eastman said he asked Mr Du whether he thought in advance about killing the Dings, to which he replied "I did not think so far ahead".
He added: "If I had, I probably would never have gone there.
"At the time my heart was feeling hopeless. There was a very strong feeling of no way out."
'Mocking expression'
He told Prof Eastman he went into the Dings' house and asked Mr Ding for money, the jury heard.
Prof Eastman said Mr Du told him: "Mr Ding said I was stupid and a fool. His facial expression was one of mocking. He ordered me to leave. I think he also said he would call the police.
"I did not say anything. I withdrew the knife from the bag. I was not thinking anything. My mind was blank."
Mr Eastman then said Mr Du told him he felt he saw "blackness" and that Mr Ding's appearance was distorted and "ugly".
Referring to Xing and Alice, he said: "I also killed them, I don't know why."
He added: "The next thing I remember is I laid down and slept, then it was dark already," the jury heard.
"I did not know what time it was then I saw a wallet with money in it and car keys and decided to escape."
The trial continues.