Jamie Kightley parent trial: Murder charge dropped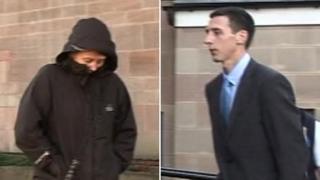 A murder charge against a couple from Northampton accused of killing their baby son has been dropped.
Seven-week-old Jamie Kightley suffered severe brain injuries and more than 40 fractures and died on 17 March 2012.
Jacqueline Parker, 21, and Adam Kightley, 24, of London Road, are still being tried for causing or allowing Jamie's death. They deny the charge.
Nottingham Crown Court heard only they knew who had harmed their son but they had "hidden behind a wall of silence".
Prosecuting barrister Sally Howes QC told Judge Jeremy Baker there was not enough evidence to ask the jury to consider a murder charge and said the Crown was unable to prove which of the defendants killed the child.
Ms Howes told the court: "There is no doubt that someone harmed Jamie and only they (the couple) know who did it."
The jury will now hear closing arguments from the prosecution and defence.