Baby Jamie Kightley not fed for hours, murder trial told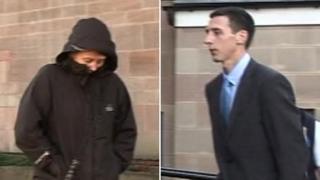 A woman accused of murdering her baby has told a jury he went for about seven hours without being fed.
Jamie Kightley suffered severe brain injuries and more than 40 fractures and died on 17 March last year.
Jacqueline Parker, 21, and Adam Kightley, 24, of London Road, Northampton, deny murder and causing or allowing Jamie's death.
Ms Parker said the seven-week-old had not been fed between 18:00 on 16 March and 01:00 on the day he died.
She had begun using "hungrier baby milk" on 16 March and later told police she "didn't want a child that was screaming all the time", the court heard.
When asked by prosecutor Sally Howes QC if she had used the new type of milk to avoid getting up in the night, Ms Parker denied that was the case but said she "wanted to see how long he would go".
She added: "He would wake up when he was hungry."
The jury previously heard Jamie had been assaulted about two weeks before his death and again within hours of his death.
The prosecutor said: "You both knew the child had bruises from an earlier assault, because you both knew he'd been shaken on an earlier occasion."
Ms Parker replied: "No, Jamie was perfect".
When asked when she first saw the bruises, Ms Parker replied: "In the hospital."
Jamie was found "not breathing" by Mr Kightley at about 06:30 and died within minutes of arriving at hospital, the court heard.
When questioned in court, Mr Kightley agreed Jamie had come second in his priorities before his death.
He has denied doing anything to harm Jamie.
The trial continues.