Anxiang Du trial: Screams of killed Ding sisters played to jury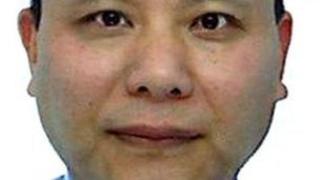 The terrified screams of two sisters stabbed to death with their parents have been heard by a murder trial jury.
Jifeng "Jeff"' Ding, his wife, Ge "Helen" Chui, and daughters Xing, 18, and Alice, 12, were killed at their Northampton home on 29 April, 2011.
Members of the Northampton Crown Court jury looked upset as a 20-second 999 call by the teenager was played.
Anxiang Du, 54, of Witnell Road, Coventry, denies four counts of murder but admits killing the Dings.
His defence case is that he should be found guilty of manslaughter on the grounds of either diminished responsibility or loss of control, the court heard.
The court has heard he had been in a 10-year legal battle with Mr and Mrs Ding and faced costs of £88,000.
It is alleged he murdered the family in revenge.
Juror in tears
Prosecutor William Harbage QC warned members of the public that the call was not pleasant and that they may wish to leave the public gallery.
The recording featured two high-pitched, terrified screams.
One juror covered her face with her hands, while another wiped tears from her eyes.
Mr Justice Flaux asked if members of the jury wanted a moment to compose themselves, but the offer was declined.
The defendant, who is aided by a Mandarin interpreter and surrounded by five dock officers, remained seated with his head bowed.
He was said to be "a man on a mission", arming himself with a kitchen knife and travelling from his home in Coventry, via Birmingham, to the family's home in Pioneer Close, Wootton.
Mr Ding, a Manchester Metropolitan University lecturer, was stabbed 23 times and Mrs Ding, a translator, 13 times.
Xing, who was also known as Nancy, had 11 stab wounds and Alice four.
'Sick at sight'
The jury heard neighbour Jason Horsley had been concerned that the Ding family had not been seen for a few days.
In a statement read to the court, he said he was "shocked and trembling" after looking through a window of their home on 1 May and seeing a pair of legs and blood.
PC John Campbell, one of two officers who were the first to arrive, said the body of a woman wearing a dressing gown was behind the kitchen door.
A man's body was under a radiator and there was "a considerable amount of blood splatter on the walls, curtains, floor and around the kitchen".
PC Eva Cheng said in a statement read to the jury that she ran upstairs to check the bedrooms.
"I saw two bodies. I said 'police, stay there' before I realised they were deceased children."
A young child was curled up on the bed, facing away from her, and an older girl was on the floor "doubled over in a prayer position".
"There was a lot of blood on the carpet."
The officer said she felt sick at the sight of dead children and needed a moment to catch her breath.
The trial continues.