Northampton woman writes 'thank you letter' to burglars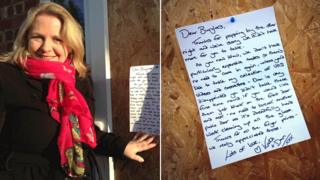 A woman has written a thank you letter to the burglars who broke into her house and apologised for not having "particularly expensive tastes".
Kate Barrett, 36, wrote that she and her partner, Dan Owens, were "disappointed" the thieves had ignored her VHS video and cassette collection.
Miss Barrett stuck the letter to the back door of the Northampton home she shares with Mr Owens.
The burglars smashed through the door on Sunday evening.
The couple were both away at the weekend and Miss Barrett, who works as a communications officer, got home first to discover the "ransacked" house.
'Big hoarder'
Mr Owens, 34, said: "I'd gone to my parents for the weekend while Kate went to London to watch the Strictly Come Dancing live show.
"She called and I came straight over and the place had been ransacked."
The burglars had gone through every room but "there wasn't too much to take - some cash, a camera, an ipod, but nothing too major".
He added: "I think they were planning to go out through front door with the telly, but luckily the spare key doesn't work.
"She's a big hoarder and has all these old tapes and videos from way back when and they are welcome to those."
The thieves broke in by climbing the garden wall and smashing through the patio door.
Northamptonshire Police said officers are investigating the burglary and appealed for witnesses to come forward.