Northamptonshire PCC cost questioned by Police Federation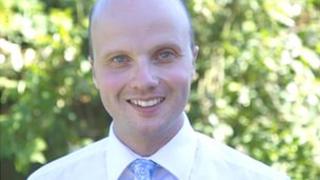 Police officers have questioned the cost of Northamptonshire's police commissioner a year after his election.
The old police authority spent £865,000 in its final year, while the police and crime commissioner (PCC) Adam Simmonds, who replaced it, has spent just over £1m on his 17-strong office.
The Police Federation said it "feels wrong" when cuts were being made elsewhere in the force.
The PCC's office said it cost more because it had a wider remit.
The Northamptonshire force is facing cuts of £21m over the next four years from its annual budget of about £120m.
The PCC, who was elected on a Conservative ticket, has said the number of uniformed officers needed was 1,220.
The Police Federation, which represents rank and file officers, said that number had been cut from 1,265, while Northamptonshire Police said it had been 1,252 in April 2009.
'Meaningless' comparison
Neil Goosey, Northamptonshire branch secretary for the federation, said: "We know the PCC's office is a new infrastructure, but when you see the office growing while other parts of the force are shrinking, it just feels wrong and maybe the time is right for him to review his staffing needs in the same way the rest of the force is having to.
"I understand the PCC needs to have the right people to deliver a new way of working, but it seems a bit bizarre that the bulk of the organisation is delivering more with less, but that is not being replicated in the office of the commissioner."
A spokesman for Mr Simmonds' office said: "Comparing the costs of the defunct police authority with the new PCC is meaningless.
"The PCC's role is wider and covers work that used to be done within the police force, as well as new work such as securing a better deal for victims of crime, investing in new technology for policing and paying for all the things the PCC was elected to do."