Anxiang Du 'killed Ding family with ruthless efficiency'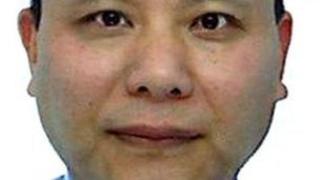 A man murdered a family of four with "ruthless efficiency" to "avenge himself" after a business relationship turned sour, a jury has heard.
Jifeng "Jeff"' Ding, his wife, Ge "Helen" Chui, and daughters Nancy, 18, and Alice, 12, were stabbed to death at their Northampton home in 2011 .
Anxiang Du, 54, denies four counts of murder.
Northampton Crown Court heard a 10-year legal battle with the Dings had left Mr Du with £88,000 to pay in costs.
Prosecutor William Harbage QC said the defendant, of Witnell Road, Coventry, wrote a "farewell note" to his wife then travelled to Northampton on 29 April, 2011.
'Cowering in bedroom'
Armed with a kitchen knife, he "savagely stabbed to death" Mr and Mrs Ding in their kitchen in Wootton.
"Not content with killing them... he then went upstairs to find their two daughters... cowering in a bedroom," he added.
"He cold-bloodedly stabbed them to death as well."
The court heard Mr Du and his wife Can Chen had been in the Chinese herbal medicine business with their friends the Dings, but that relationship had "turned sour".
The 10-year dispute involved "protracted and acrimonious litigation in the civil courts", said Mr Harbage.
"Although Du won the first battle he lost the last and was left with a large sum of money to pay in costs, some £88,000."
'Resorted to violence'
The day before the killings he was served with an injunction to prevent him from dissipating his assets, the jury was told.
"It was obvious to him that he had lost, he faced ruin, there was no other legitimate course of action for him to take to fight his case," Mr Harbage said.
"And so he resorted to violence, to murder, in order to avenge himself on the people who had caused him such grief.
"He did so not just by killing them, Mr and Mrs Ding, but also by murdering their wholly innocent daughters with whom he had no grievance whatsoever.
"Du made a plan and carried it out with ruthless efficiency."
Post-mortem examinations found Mr Ding had been stabbed 23 times, Mrs Ding 13 times, Nancy had 11 stab wounds, and Alice had four.
The jury was told they would hear a "distressing" 999 call made from Alice's mobile phone at 15:32 BST, which accurately timed the killings.
'Diminished responsibility'
Mr Harbage told the court Mr Du, "having massacred the Ding family", stole their car and went in search of Paul Delaney, who had become involved in the civil litigation.
"Fortunately for Mr Delaney, Du did not find him," Mr Harbage told the court.
The jury was told he drove to London, took a coach to Paris and travelled to Morocco from where he was brought back to the UK earlier this year.
The court heard it was "obvious from an early stage" Mr Du had killed the Dings due to CCTV evidence of his movements and his fingerprints at the scene.
It was anticipated he would claim he should only be convicted of manslaughter on either the basis of diminished responsibility or loss of control, Mr Harbage said.
The trial continues.