Jamie Kightley's father Adam denies harming baby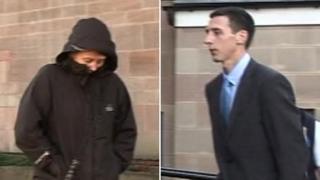 A father accused of murdering his baby son in Northampton has told a jury he never did anything to harm him.
Jamie Kightley suffered severe brain injuries and more than 40 fractures, Nottingham Crown Court was told.
He died within minutes of arriving at hospital on 17 March last year.
His parents Adam Kightley, 24, and Jacqueline Parker, 21, of London Road, Northampton, both deny murder. They also deny causing or allowing his death.
Mr Kightley told the jury Jamie had been unplanned but he had been "ecstatic" to become a father.
He had had two lagers and smoked cannabis twice the day before the baby's death and had taken over the bathing and feeding Jamie before he was put to bed, he said.
'In shock'
The court heard he awoke early the next day and found Jamie looked "very white", so got his partner Miss Parker.
Mark Wall QC, defending Ms Parker, asked Mr Kightley "why didn't you cuddle him?" to which he replied "I was in shock".
The barrister added: "Is the truth about touching him: you knew he wouldn't be right that morning?"
"Of course not," Mr Kightley said.
Sally Howes QC, prosecuting, said: "Someone has caused fatal brain damage to Jamie.
"The only two people who could have done that are you and Jacqueline. That's right isn't it?"
"Yes," replied Mr Kightley.
"One of you did it, and one of you knows," added Ms Howes.
"No," said Mr Kightley.
'Ray of sunshine'
He became visibly upset when he saw photographs of Jamie's injuries.
Ms Parker sobbed when she gave evidence and was shown the same photographs.
She said she was heartbroken at his death and would do nothing to harm him.
She described him as her "little ray of sunshine" and said she was proud to be his mother.
When asked what she had smoked and drank the night before his death, she said she had smoked a cigarette which may have contained cannabis and drank a can and a half of lager.
Earlier, the court was told Jamie had been assaulted about two weeks before his death, and within hours of his death.
The trial continues.