Cosworth Northampton to build £20m engine parts factory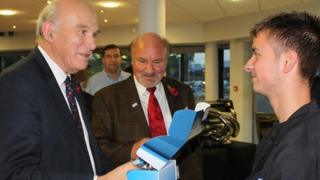 A £20m manufacturing plant is to be built in Northamptonshire that is expected to create 70 jobs.
Cosworth Engineering has revealed it is to build the precision components manufacturing factory.
Business Secretary Vince Cable visited the firm on Thursday and was told the new 50,000 sq ft (4,645 sq m) plant would be ready in 2015.
Skilled engineers would produce components for some of the world's most advanced engines, he was told.
The location of the factory has not yet been confirmed.
It will produce components for engines in vehicles built by leading companies across the world.
Chief executive Hal Reisiger said the new production facility was christened Jubilee, to coincide with Cosworth's 50th anniversary in Northampton next year.
"Investment in the new factory from both existing shareholders and other sources is expected to be circa £18-20 million," he said.