Northamptonshire development agency powers transfer discussed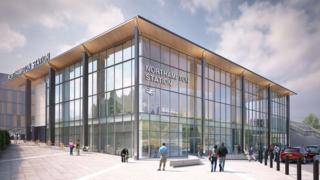 The closure of an agency responsible for Northamptonshire's economic development could mean its powers passing to local councils next March.
West Northants Development Corporation has been behind enterprise zone schemes and infrastructure refurbishment.
Discussions are now on-going between the town's borough council and the county council about taking over.
The councils have welcomed the transfer of powers and responsibilities to those who are "democratically elected".
'Greater powers'
So far the transfers of land and responsibility for projects in Northampton are to be taken over by the borough council.
These include the enterprise zone developments at Avon/Nunn Mills and St Peter's Waterside plus further phases of regeneration at the town's railway station.
The development agency's land alongside a disused railway line at Southbridge will be transferred to Northamptonshire County Council.
Borough council leader David Mackintosh said: "Powers will move back to those who are democratically elected to represent local people.
"This transfer will give us greater powers over regeneration in our town."
County council leader Jim Harker said: "This regeneration with economic growth and employment opportunities will bring benefits to the wider economy across the county."