Daventry beef burglars steal tonne of steak from warehouse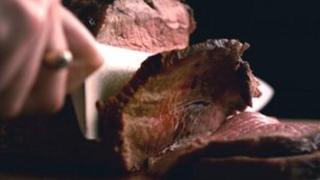 Thieves made off with more than one tonne of prime beef in a raid at a Northamptonshire meat warehouse.
More than 360 fresh rib-eye roasting joints were stolen from Faraday Fine Foods Ltd in Faraday Close, Daventry, at about 19:00 GMT on Saturday.
Police said the thieves removed padlocks from the gates before forcing their way into the building.
They are appealing for "anyone who is offered large quantities of cheap beef" to get in touch.
David Baker, who owns the company, said: "This was prime Northamptonshire-branded beef from grain-fed, locally-reared cattle and was destined for the cruise liner industry.
"It's a large quantity of meat and its loss will hit us hard."