Connaughty Centre: Council could seek permission to sell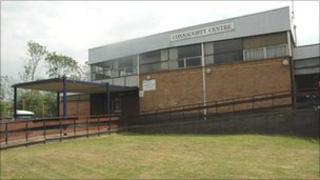 A youth centre and sports hall needing repairs costing up to £700,000 may be sold to save money.
Northamptonshire County Council is to consider seeking permission to sell the site of the Connaughty Centre and McDiarmid Sports Hall in Corby.
The site is leased by the council from the Homes and Communities Agency whose permission is needed for any sale.
In a report to cabinet outlining the cost of repairs, council officers recommend finding a buyer for the site.
The Connaughty Centre is used by Youth Works, a community interest company.
The McDiarmid Sports Hall has been unused since 2005 and is in an "extremely poor state of repair", according to the report.
Deputy council leader Heather Smith said council staff had been employed at the centre and it was responsible for its upkeep.
But now the buildings "are surplus to our requirements", she said.
"The running costs alone are £78,000 each year and as it stands, it would cost about £700,000 to carry out all the necessary repairs that have been identified.
"We recognise the contribution that Youth Works makes to young people in the area and we are committed to working with them to find alternative premises in Corby."
The future of the centre and sports hall will be decided at a cabinet meeting on Tuesday 12 November.