Wellingborough MP told of prison site sale by minister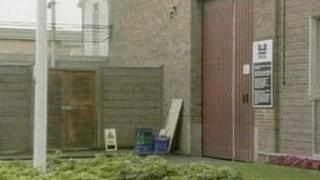 The site of a Northamptonshire prison closed 12 months ago has been put up for sale, despite hints from a justice minister it could reopen.
The 600 inmates at Wellingborough Prison have been moved, but the site costs £250,000 a year to maintain.
In a letter to local MP Peter Bone, prisons minister Jeremy Wright said it was in taxpayers' interests to sell.
Mr Bone had campaigned to reopen the prison and said he was disappointed and "baffled" by the decision.
He pledged that he would continue the fight to reopen the prison and had already taken the first steps in Parliament.
Outdated building
Conservative MP Mr Bone has called for an adjournment debate when the minister would have to explain his actions to the House of Commons.
"There is no logic to this decision and it goes against government policy," he said.
Wellingborough first opened in 1963 and held young offenders until 1990 when it became a training prison for men.
The Department of Justice deemed the building to be outdated and at an annual cost of £10m was too expensive to run.
Mr Bone said he had hoped the closure would be temporary.
Mr Wright hinted in October 2012 that he would not rule out reopening the jail in the future.