Northampton's Delapre Abbey restoration given planning permission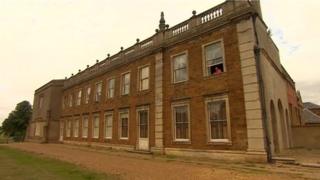 A project to restore a 12th Century abbey in Northampton will go ahead after planning permission was granted for the work.
Delapre Abbey was established as a Cluniac Nunnery in 1145. The main building will be refurbished and the site's 18th Century stable block restored.
Last month the Heritage Lottery Fund awarded a £3.6m grant for the project.
Northampton Borough Council will provide an investment of £1.34m.
The balance will be funded with trusts, donations, a public appeal and the work of volunteers.
The restoration of the abbey is one of the council's key heritage projects.
David Mackintosh, leader of Northampton Borough Council, said: "This work is vital if we are to save one of the real jewels in Northampton's crown.
"Its grounds are enjoyed by thousands of people each year, but there is so much more to Delapre than its beautiful park and woodlands."
The conservatory will be rebuilt and the south wing opened for events and public access.
The stable block will be turned into a new visitor and education centre, shop and exhibition space, and the Billiard Room will become a restaurant.