Charwelton raises £120,000 to save The Fox and Hounds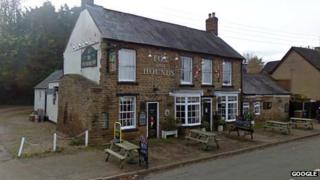 Residents of a Northamptonshire village have raised almost £120,000 to save a pub from being turned into housing.
The money, raised via a community share issue, will be used to buy The Fox and Hounds in Charwelton, near Daventry.
The Charwelton Community Pub and Shop Co-operative said it would re-open in time for Christmas if a further £30,000 could be raised for refurbishments.
The purchase of the pub, currently owned by developers Family Housing Ltd, is hoped to be completed by December.
Co-operative member Daniel Elkins said the group were "absolutely delighted with the support and enthusiasm that we have seen".
"It has been incredible to see people come together behind a shared dream to save this vital community asset."
He said the pub, which closed in 2012, will "once again be a thriving community hub, providing a centre for social events, celebrations, activities and, above all, a warm welcome to all".
The community shares cost £500, with a limit of £20,000 of investment being allowed per investor.
Residents formed a co-operative and launched a community share on 3 October with support from The Co-operative Enterprise Hub after the pub, which dates from the 1870s, was purchased by property developers.