Northampton chicken mascot girl punched on first day at work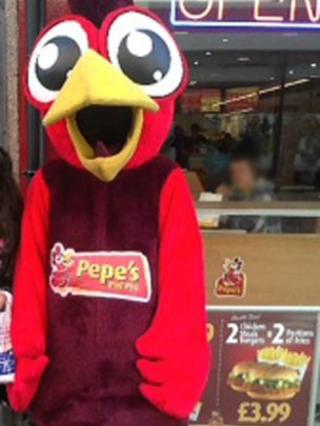 A teenager dressed as a chicken was punched in the face on her first day at work promoting a Northampton takeaway.
The 17-year-old girl was wearing a Pepe's Piri Piri chicken mascot costume when she was assaulted by a boy in Gold Street at about 15:30 GMT on Sunday.
Owner Muhammad Junaid said: "She was shaken, but unhurt. She said she'd really wanted to be the chicken and was very enthusiastic. It's dreadful."
Police are looking for two teenage boys in connection with the attack.
The girl had been employed to promote the restaurant during the annual St Crispin Street Fair, on Sunday afternoon.
"She came in the day before with her CV and said she wanted to be the mascot," Mr Junaid said.
"She had lots of A* qualifications and merits so I asked her if she was sure she really wanted to be our chicken, and she said yes.
"I think she thought it would be a fun way to earn a little money for a few days."
Mr Junaid said he told her when wearing the large costume she needed to "be aware of your environment and watch your back".
"Luckily the mascot face is very big, so that protected her, but why anyone would do it, I just do not know," he added.
Northamptonshire Police are looking for a boy, aged about 14, 5ft 3in (1.6m) tall and of slim build.
He was wearing a blue hooded top with white stripes on the sleeve and dark tracksuit bottoms. It is believed he was with another boy who was riding a BMX bike.