Jamie Kightley: Northampton parents 'left baby for dead'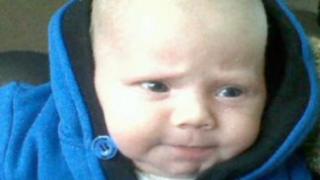 One or both parents of a seven-week-old boy inflicted severe brain injuries and left him for dead, a jury has been told.
Jamie Kightley suffered more than 40 fractures in his ribs and legs and died in hospital on 17 March last year.
His parents Adam Kightley, 24, and Jacqueline Parker, 21, of London Road, Northampton, have denied murder and are on trial at Nottingham Crown Court.
They also deny causing or allowing his death.
The jury heard Jamie had been assaulted about two weeks before his death, and within hours of his death.
He had extensive bruising all over his body and had no pulse and was not breathing when he arrived at Northampton General Hospital by ambulance at about 06:30 GMT.
He was pronounced dead about 30 minutes later, the jury heard.
'He's not breathing'
The prosecution's case is that one or both parents assaulted Jamie at their flat in March, causing his death.
Each is blaming the other and has given police different versions of what happened, the court was told.
They agreed Jamie was bathed and fed at 01:45 GMT on the day of his death, and claimed there were no marks on his body at the time.
Miss Parker claimed she felt sick that night, went to bed and left Mr Kightley to feed Jamie, the court heard.
She was woken by her partner screaming "Babe, it's the boy, he's not breathing".
Police were told by Mr Kightley that both had fed Jamie and put him to bed, and then fallen asleep together.
A paramedic who attended the flat said Miss Parker told him "everything was fine" at 02:00, and that she had called the ambulance straightaway when he was found at 06:20 GMT.
Mr Kightley pointed out bruises on Jamie's body and repeatedly asked what they were, the court heard.
Both claimed they did not know how the injuries were caused.
The trial continues.