Northamptonshire recyclers 'cheesed off' by reminder tags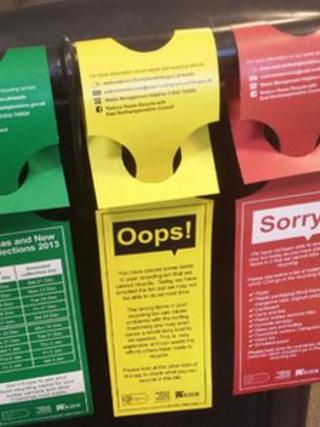 Colour coded reminder tags attached to recycling bins in Northamptonshire have left some residents "confused and cheesed off", a town mayor has said.
They were introduced by East Northamptonshire Council a week ago.
People with too many non-recyclable items in bins are given a red "sorry" tag and the bins are not emptied.
The council said it would help improve recycling rates, but Irthlingborough mayor, John Farrar, said: "It's not gone down very well."
The system was introduced to remind customers of what goes in which bin, and reduce costs incurred when non-recyclable items have to be removed to landfill sites, the council said.
'Recycling happy'
Green tags on green-lidded bins include recycling information and changes to collection days.
The yellow "oops" tags inform them that although their bin has been emptied on this occasion, there were some incorrect items, and the bin may not be emptied if they persist.
The final warning red tag apologises to customers, telling them there were too many non-recyclables and the bin has consequently not been emptied.
Conservative councillor Glenn Harwood, chair of the waste and recycling working party, said: "We don't leave recycling bins un-emptied without good reason.
"Some people can get 'recycling-happy', throwing everything into the green lidded bin, but [that] jeopardises the success of the whole service and costs a great deal of money."
Mr Farrar, a Labour district councillor, said: "People are saying they should collect the refuse by law and if they don't, they should have a refund on the council tax.
"I can understand why the council is doing it... I was one of the district councillors who took the decision so I'm not trying to distance myself from it.
"However, people are a little confused, and those who have a red sticker on their bins are a bit cheesed off."