Former Kettering General Hospital staff nurse struck off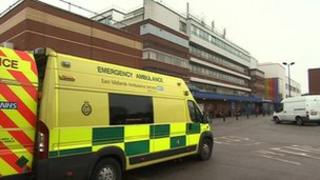 A former hospital staff nurse has been struck off after implying that an elderly male patient's daughter was attempting to kill him.
Eileen Cutliffe, who worked at Kettering General Hospital, told her: "I will not give morphine. Palliative care is not about killing people."
The Nursing and Midwifery Council (NMC) heard Ms Cutliffe also failed to record details of drugs given to the man.
Ms Cutliffe, who did not attend, was struck off by the NMC.
The NMC's competence and conduct committee had met to review a suspension order imposed on Ms Cutliffe in April last year, later extended until the end of next month.
After reviewing the evidence, it replaced the suspension with a striking-off order.
'Burst through curtains'
The original panel ruled that Ms Cutliffe was guilty of misconduct and her fitness to practise was impaired.
It had heard she was working as a staff nurse on the hospital's Lamport Ward on 24 March 2009.
One of her patients was a man with a number of serious medical conditions who had been identified for palliative care.
His daughter Irene Hickman requested pain relief for her father, but the panel heard Ms Cutliffe "burst" through the curtains around his bed.
She said: "I will not give morphine. Palliative care is not about killing people," before closing the curtains and walking away.
Jennifer Humphrey, the patient's granddaughter, said she felt this comment implied Mrs Hickman was attempting to kill her own father and had caused distress.
The review panel decided that extending the suspension order would serve no purpose and that only a striking-off order would sufficiently protect the public.
Ms Cutliffe did not attend the hearing, telling the NMC that she was moving to Australia for two years.