Northamptonshire road consultation begins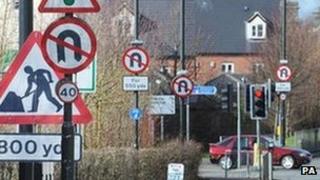 A consultation on plans to ban cars from some Northamptonshire roads and reduce street signage has begun.
The council proposals, which could also see some roads narrowed to one lane to deter lorries, are part of an effort to reduce ongoing maintenance costs.
Parish councils and community groups are also being asked if they could undertake some simple maintenance work.
Councillor Michael Clarke said the plans were an attempt "to maintain the network with more limited funds".
"Clearly abandoning our road network isn't an option so we're looking at solutions to maintain it with more limited funds," said Mr Clarke, county council cabinet member for transport.
"These are extremely challenging financial times and we're feeling it here with the county council looking to save a further £140m over the next four years."
Alongside maintenance work such as hedge cutting and ditch clearing, local councils and communities could also take over the ownership of grit bins and village signs.
The council said the plan to ban cars and lorries from "little-used" roads would only be applied to places where alternative routes were available.