Northampton disused rail line bought by WNDC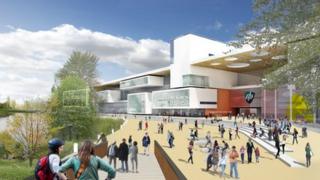 A disused rail line in Northampton has been bought for £1.5m to create a cycle and pedestrian path.
The two-mile (3km) line stretches from the Brackmills Industrial Estate to the Northampton Enterprise Zone.
West Northamptonshire Development Corporation, which bought the land from Network Rail, said it would reach a new University of Northampton Campus.
The 20 acres (8 hectares) of land attached to the former rail track will also provide a habitat for wildlife.
West Northamptonshire Development Corporation (WNDC) chief executive Peter Mawson said it was important to support grassroots community facilities.
"The disused railway line has the potential to be a great addition to the local transport network, helping to make Northampton a truly walkable town."