Kettering business park 'to create 3,000 jobs'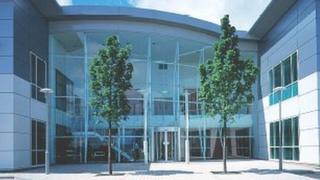 About 3,000 new jobs could be created if plans for a multi-million pound business park in Northamptonshire are given the go-ahead, says the developer.
Roxhill's proposals could see new offices, industrial units and a hotel on the site near junction 10 of the A14 in Kettering.
The firm has been in talks with Kettering Borough Council for more than two years about the plans.
The scheme will go before the Tory-controlled council at a later date.
The new business park will be accessed from an improved A6 and is close to the Latimer Park Industrial Estate, which includes a Morrisons supermarkets distribution centre and the UK base of cereal maker Weetabix.
Roxhill says the site will include:
"Flagship" headquarter offices
Industrial units for research and development
Small distribution units
Hotel and leisure buildings
Kate Bedson, director at Roxhill, said: "The scheme fully meets the planning needs for Kettering and North Northamptonshire... providing jobs for the consented 5,500 new homes and so reducing out-commuting.
"We know there is demand in the market and the business park will bring in much needed inward investment and deliver the desired high-quality jobs and provide a much needed new business park development for Kettering.
"The scheme is a jobs-led and infrastructure-led development.
"The national economy is now coming out of recession and this is a proof of that and of the private sector's confidence in Kettering."