Peter Paterson killed after heavy cables not secured properly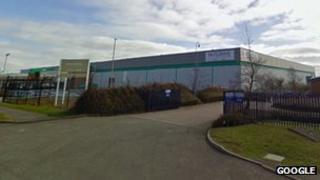 A worker was crushed by two-tonne cables which were not "suitably secured", an inquest jury has ruled.
Peter Paterson, 61, was struck when the cabling became detached from the ceiling at Musgrave Retail Partners Distribution Centre, in Wellingborough.
The inquest in Northampton heard Mr Paterson's "accidental death" was due to the "unnecessary removal of armoured cables at height".
The jury returned the narrative verdict following a two-day inquest.
The court had earlier been told that metal was routinely taken by contractors and then sold as scrap.
Three contractors - Geoff Vaughan, Jean Campbell and Peter Scovell - admitted going to the warehouse on weekends and in the evenings to remove lengths of what they called "redundant metal", which they sold to the scrap dealers.
The jury also heard from health and safety inspector Andrew Pitt who said the original metal ties had been replaced with nylon ones.
Mr Pitt said instead of heavy duty cable ties being used, three smaller cable ties had been strung together to make long cable ties.
He said: "These are large power cables, bunching them together is not a way I would have expected to see cables of that size supported.
"The cable ties had failed."
The cables were 36ft (12m) off the floor and went across the ceiling and down the wall, which allowed for the whole length to fall to the floor.
They were inches thick and filled with heavy copper.
On Tuesday, the court heard paramedics were unable to touch Mr Paterson initially as they thought the cables could be live.
Workers on the warehouse floor at the time described how they heard bangs and crashes and saw Mr Paterson on the floor with a pool of blood around his head.
A colleague said he knew Mr Paterson was dead after he was struck on 16 August 2010.