Peter Paterson killed by two-tonne cable in warehouse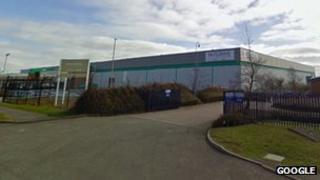 A worker died when cabling weighing more than two tonnes fell on him in a Northamptonshire warehouse.
Peter Paterson, 61, was struck when the cabling became detached from the ceiling at Musgrave Retail Partners Distribution Centre, in Wellingborough.
An inquest in Northampton was told paramedics were unable to touch him initially as they thought the cables could be live, the inquest heard.
Mr Paterson died at the scene. The hearing continues.
Workers on the warehouse floor at the time described how they heard bangs and crashes and saw Mr Paterson on the floor with a pool of blood around his head.
One colleague said he knew he was dead already.
'Perk of job'
The inquest heard that some of the metal bands which secure the cables to the ceiling had been removed and replaced with plastic cable ties.
A large amount of metal was taken from the warehouse and sold for scrap, the hearing was told.
The inquest heard from three contractors - Geoff Vaughan, Jean Campbell and Peter Scovell - who admitted going to the warehouse on weekends and in the evenings and removing lengths of what they call "redundant metal", which they sold to the scrap dealers.
Mr Vaughan, an electrical installation supervisor and subcontractor in charge of other workers, was among workers who spent up to eight hours at a time removing metal from the building, the inquest heard.
When asked if it was something he regarded as a perk of the job, Mr Vaughan replied: "Yes."
The coroner asked him: "Who told you it could be removed?" He replied: "No-one."
They admitted taking various lengths of cabling and selling it to the scrap dealers for hundreds of pounds, but they deny cutting from the stretch of cabling that fell on to Mr Paterson.
The inquest is expected to last three days and finish on Thursday.