England dominates World Conker Championships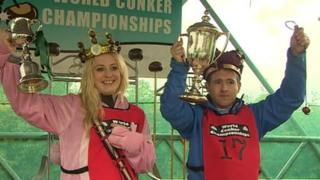 English competitors have conquered rivals from 15 different countries to claim the top prizes at the 2013 World Conker Championships.
The competition moved this year to the village of Southwick near Oundle, in Northamptonshire, from nearby Ashton.
In what was the 47th staging of the event, the Conker Queen emerged as Sophie Knox, from Harrogate, and the King was Simon Cullum from Kettering.
The championships have not been held since 2010 because of bad weather.
The contest traditionally takes place on the second Sunday in October.
Speaking before the event, organisers said that teams from as far away as Venezuela would be taking part, and that women and men were to compete directly for the first time.