World Conker Championships opens at Northamptonshire village venue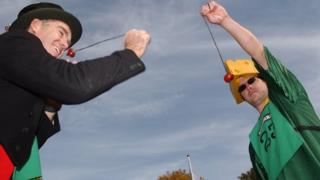 Competitors from 15 countries are taking part in the 47th World Conker Championships in Northamptonshire.
The competition, not held for two years because of bad weather, has moved to the village of Southwick near Oundle, from nearby Ashton.
The event traditionally takes place on the second Sunday in October each year.
"A team from Venezuela is taking part and women will compete directly against men for the first time," St John Burkett, one of the organisers, said.
"There will still be both a men's and ladies' champion," he said.
"If two women make it through to the grand final, the man who has done the best will be crowned Conker King with the winner of the final then becoming Conker Queen."
'Squirrels playing vikings'
A traditional King Conker will ensure "grand traditions of old" are upheld. These include fair play, good fun, and no cheating.
Competitors must draw a fresh conker for each round from a bag.
"They can only see the string," Mr Burkett said.
"Many people dress up for the event so we will see squirrels playing vikings and nuns playing knights in armour.
"Health and safety have always been a consideration, but in 46 years, there has never been a conker-related incident or injury at the event."
Any money raised goes to charities for the blind or partially sighted and, over the years, more than £400,000 has been donated.
The 2011 tournament was cancelled because of high winds, while last year's championship was called off when no suitable new venue that would not be affected by the weather could be found.