Northampton Town FC stadium: New stand may up capacity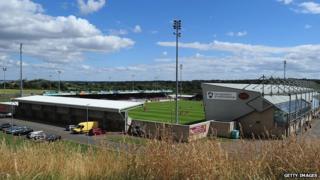 Northampton Town FC could build a new stand at the Sixfields stadium which would increase capacity to 10,000.
Final plans for the east stand are due to be submitted to Northampton Borough Council, but it has now emerged the west stand may be redeveloped as well.
The club said the east stand was only phase one of the stadium redevelopment and success on the pitch may mean they have to add more improvements.
Chairman David Cardoza said it would help to make the club self-sufficient.
Phase one is part of a £12m loan deal with the borough council.
The east stand plans include conference facilities, executive boxes and more seating for supporters.
Mr Cardoza also outlined his ambition to move up the leagues and bring in bigger crowds.
A future west stand development would be needed to accommodate them, he said.