HS2 rail line plans affected by Wars of Roses battlefield find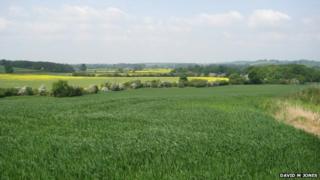 Any planning decision over the HS2 high speed rail link will have to take into account a newly-registered Wars of the Roses battle site, it has emerged.
The Battle of Edgcote in 1469 was one of the bloodiest of the Wars of the Roses - but its exact location has only now been pinpointed.
English Heritage has added the site to its Register of Historic Battlefields.
HS2 said it was in discussion with English Heritage about the site and said it wanted to protect heritage.
HS2, which stands for High Speed Two, is intended to allow trains to run at 250mph (400km/h) from London to Birmingham from 2026, with branches to Manchester and Leeds via Sheffield planned for 2033.
The estimated cost of the plan has risen in the past few months from £34.2bn to £42.6bn - plus £7.5bn for rolling stock.
Research by The Battlefield Trust led to the discovery of the precise location of the Battle of Edgcote.
Although a battlefield register listing does not mean automatic protection, it does mean sites have to be considered within the planning process.
'Minimise impact'
Simon Marsh, research co-ordinator at the Battlefields Trust, said: "The planned rail line clips the north-east corner of the newly-registered battlefield area and, if a decision is taken that HS2 should still be built, it will be vital that every effort is made to recover any surviving archaeology which could tell us more about the battle."
An English Heritage spokeswoman said: "English Heritage is pleased to be able to add Edgcote Battlefield to the Register of Historic Battlefields, so that its significance is appropriately recognised.
"The proposed route of HS2 crosses the battlefield, which we are now confident can be securely identified as a result of the Battlefield Trust's work.
"However, HS2 was already aware of the site of the Battle of Edgcote before its registration and recognises it as a heritage asset.
"It is working with English Heritage to minimise the line's impact on heritage along the route."
A spokesman for HS2 said: "We have no plans to change the current route through the battlefield site again.
"We amended the line's position in 2012 after a public consultation to move it away from the main focus of the battle and also to avoid the village of Aston Le Walls and Edgcote House.
"We will continue to work closely with English Heritage to make sure that archaeological investigations can be carried out before the line is built to help our understanding of what happened at this important historical location."