'Serious failures' in death of baby in Northamptonshire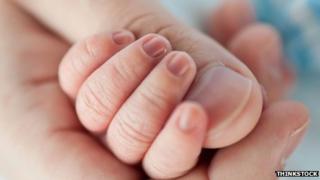 A four-week-old baby who died was failed by professionals who should have been protecting her, a serious case review has found.
Assessments of "Maisie" were not "robust enough" and those working on the case were "insufficiently curious".
She died of natural causes in 2012 and had been sleeping with her drug addict parents on a mattress on the floor.
Local Safeguarding Children Board Northamptonshire (LSCBN) said agencies had "failed to protect" the girl.
Maisie, not her real name, had been made subject to a child protection plan over concerns that she may be neglected, and her parents Natalie and Karl, also not their real names, were deemed at risk.
Karl, 32, had been to prison in 2001 for causing grievous bodily harm to his six-year-old stepson.
Blood around mouth
Eighteen-year-old Natalie had a troubled past and both she and Karl abused drugs and alcohol, the review said.
Maisie had been born prematurely in April 2012 and when she left hospital should have stayed with her mother at her grandmother's house, which was deemed the best place by authorities.
But the serious case review found Maisie and Natalie stayed at Karl's flat.
She was found lifeless by Natalie in their bed in May, with blood around her mouth and nose.
A post-mortem examination failed to ascertain the cause of death, although co-sleeping with her parents on a mattress on the floor was a "contributory factory".
Maisie had severe nappy rash, the flat was dirty and untidy and there was evidence of drugs use.
She and her parents had not been seen by a social worker for 10 days.
'Serious failures'
The review points out that it is impossible to say whether Maisie's death could have been predicted or prevented but states professionals had not been curious enough and had been "over optimistic" about the difficulties of the case.
It was found that there were some occasions where agencies could have considered the protection of the child and carried out a full assessment of the risks.
Information was not shared as openly as it should have been.
Kevin Crompton, chairman of LSCBN, said: "We failed to protect this child by allowing her to remain in conditions that represented a risk to her safety.
"There were serious failures in practice which should not happen.
"I urge every professional in the county involved with safeguarding to read this report and reflect on whether it would happen on their shift."
Natalie and Karl were arrested on suspicion of neglect, but the case was dropped.
'Pieced together jigsaw'
The review comes just months after a damning report into Northamptonshire's children's services by Ofsted.
It said services were inadequate, the lowest rating possible.
The service is now six months into a two-year improvement programme.
Councillor Catherine Boardman, cabinet member for children and education, said it "could have and should have" given Maisie better care, support and protection.
"We should have pieced together the pieces of the jigsaw that would have showed us the extent of her vulnerability.
"We should have supported her mother better because we knew she had her own vulnerabilities that impacted her ability to look after her child.
"Every time we came into contact with the family, we should have asked ourselves if we were doing our best for Maisie."