King Edward VII: Northampton royal bust restored for centenary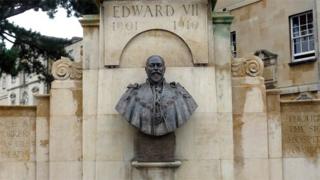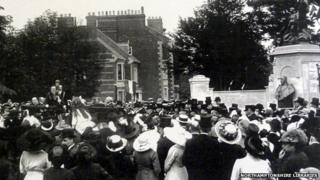 A sculpture of King Edward VII has been restored to its former glory to mark its centenary in Northampton.
The bust, on the corner of Billing Road and Cheyne Walk, was officially unveiled to King George V and Queen Mary in September 2013.
Originally funded by donations from local people, it was created by Sir George Frampton, who also designed the Peter Pan statue in Kensington Gardens.
Northampton Borough Council paid £7,500 for the restoration.
As well as King Edward VII, the piece, which is outside the old entrance to Northampton General Hospital, also shows St George slaying the Dragon of Disease in recognition of the king's support for hospitals.
King's salute
Tim Hadland, cabinet member for regeneration, enterprise and planning at the council, said: "Northampton has some fantastic cultural assets, and it is a real pleasure to see them restored.
"It is a fine sculpture, commemorating both the late king and celebrating St George and the Dragon.
"This location has remained virtually unchanged in all those years apart, of course, from the age of the horse and carriage making way for the motor car."
King Edward VII reigned from 1901 until his death in 1910.
It is reported a crowd of 65,000 came out to greet King George V and Queen Mary during their visit to the town, with the royal cavalcade stopping at the memorial so the king could stand and salute his father.
Mr Hadland added: "It is a fitting tribute to a time when Northamptonians came together to raise funds for such works.
"With the correct care he will see another century of life in Northampton."