Charwelton villagers pull together to save pub and pints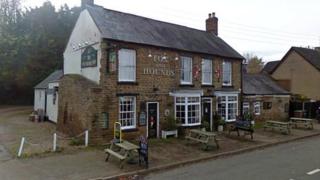 Northamptonshire villagers are hoping to raise almost £150,000 to save their pub from being converted into housing.
The Fox and Hounds in Charwelton, near Daventry, closed in 2012. Owners Family Housing Ltd said they will give residents the chance to buy it.
So far the Charwelton Community Pub and Shop Co-operative, which hopes to buy and run it, has raised £86,000.
Members said it was "a one-time opportunity to save a vital asset".
The group is hoping "community investors" will help fund part of the cost of buying the pub's freehold, with the remainder coming from a mortgage on the property and grants.
They hope rental income from a tenant landlord will help pay interest charges and other maintenance costs, with any profit being shared among investors.
In a statement, the group said: "This is the last chance the community of Charwelton and surrounding villages has to purchase the Fox and Hounds and operate a successful pub business as it has previously been."
The pub dates from the 1870s and villagers say they want to "put the heart back into the community", running it as both a pub and restaurant, a venue for social activities and possibly as a shop.