A14 and Midland Mainline upgrades threaten transport chaos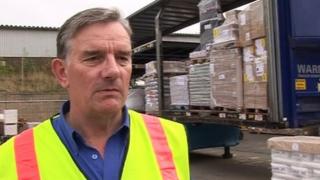 A haulier has spoken of fears that two road and rail improvement projects in Northamptonshire will hit his business.
Work is due to begin to build a third lane on a four-mile section of the A14 between junctions 7 and 9 at Kettering.
Network Rail is to rebuild Pytchley bridge on the nearby A509 in a multi-million pound Midland Mainline upgrade.
Haulier David Bletsoe-Brown said disruption would be costly to his firm. The Highways Agency and Network Rail said the work was needed.
Work on both projects will be under way at the same time and the A509 is a major slip road from industrial estates on the east side of Kettering where Mr Bletsoe-Brown's firm is based.
'Snail's pace'
He said that his haulage firm worked around the clock and the projects for both the road and the rail bridge will affect access, causing delays and disruption costing thousands of pounds.
"The A14 is busy most of the day and several times a week traffic can be reduced to a snail's pace and that's without the disruption from these projects," he said. "It is going to affect every business here."
Mike Hall, project manager on the road contract, said vehicles using the slip roads at present find getting on and off the A14 difficult.
"This scheme will help relieve that by providing an extra lane for traffic to give easier access," he said.
"We will carry out as much work as possible across the working day but there will be occasions when lanes will have to be closed.
"We'll do as much as possible overnight when the traffic is at its lightest. Overall our aim is to keep disruption to a minimum."
Marie Batson, from Network Rail, said: "We need to rebuild bridges to make them higher and wider to allow trains to travel at speed after our electrification programme is completed."
The projects should both be complete by the end of 2015.