Mike Martin 13-hour hospital wait death 'unacceptable'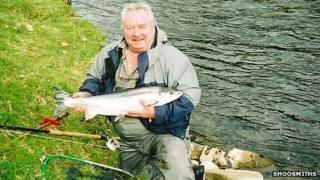 The death of a man who was made to wait 13 hours in hospital before being taken in for surgery was "unacceptable", a coroner has said.
Mike Martin, 63, died at Northampton General Hospital in February 2012 after being admitted with abdominal pains.
Recording a narrative verdict, Northampton coroner Anne Pember said delays meant there was a "lost window of opportunity" to save Mr Martin.
The hospital said it was "deeply sorry" for his family's loss.
The three-day inquest at County Hall heard an ambulance rushed Mr Martin to A&E at 03:00, but despite being in such pain that he could not lie down, he was not seen by a doctor for five hours.
It was then that the A&E registrar diagnosed him as possibly suffering from a strangulated hernia and recommended urgent surgery.
'Lives at risk'
But Mr Martin actually had an undiagnosed aortic aneurysm - a bursting of the main blood vessel to the heart - and died during the afternoon while still awaiting an operation.
The coroner was told a specialist table to accommodate for Mr Martin's size was not available at the time he needed surgery, causing a delay to his operation.
Recording her verdict, Mrs Pember said it was "unacceptable in A&E for this to happen, and subsequent delays in surgery meant there was a lost window of opportunity, which if acted upon, would have increased Mr Martin's chances of survival".
Following the inquest, a Northampton General Hospital spokesman said: "We express our sincere condolences to Mrs Martin and her family and are deeply sorry for their loss.
"We acknowledge there was a failure to provide Mr Martin with the pain relief he needed and to assess him more promptly.
"We have increased doctor and nurse staffing levels within A&E to provide more cover throughout the 24-hour period, including recruiting three additional A&E consultants."
Mr Martin's wife Trisha said she felt "let down" by the hospital and believes it was "putting lives at risk".
She added that she felt not enough changes had been implemented, as recently she had to wait four hours in the same A&E before her grandchild was seen by a doctor.