Northampton club to move to new running track at college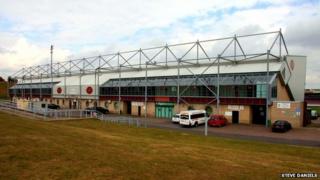 A Northamptonshire athletics club is to get an improved running track at a new home but will be homeless for a season while the facilities are built.
Northampton and Rugby Athletics Club is based at the town's Sixfields football stadium which is being redeveloped.
The athletics club must leave at the end of the football season just as the summer athletics season begins.
The club is moving to Moulton College but the facilities will not be ready for a year.
'First class'
Mark Exley, from the athletics club, said the move would give the club "access to first class facilities".
"This is an opportunity to take our club to the next level and build on the success we have achieved this season at national and regional level."
Moulton College has invested £18m in sporting facilities and Stephen Davies, the principal, said the new athletics facilities would provide outstanding opportunities for students, professional athletes and teams.
"I am sure that the athletics club will make suitable arrangements for training and events while we build the new track which we want to be the best possible.
"However, it would be a mistake to rush its building," he said.