Blisworth fire hits internet users '50 miles away'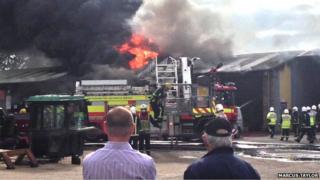 People as far away as Birmingham have been left without broadband internet for five days after a fire in Northamptonshire.
Friday's blaze at the JBJ business park in Blisworth hit Level 3's networking site, affecting 16 telephone exchanges.
Level 3 said most services had been re-routed, but some disruption remained.
The Mercedes AMG F1 support team in Brixworth had to relocate to Brackley for Sunday's race in Singapore because of the problems, a spokesman said.
He said the building's connection had not yet been restored, but contingency plans had been put in place and it did not affect the race.
The fire at the Pro Tiler Tools depot destroyed two business units and damaged eight. It is not being treated as suspicious.
Since the blaze, Internet Service Providers (ISPs) including O2 have reported disruptions to their network.
Only telephone line connections not supplied by BT have been interrupted, with cable and mobile broadband services unaffected. It has not hit phone calls.
'Losing trade'
Northamptonshire Fire and Rescue Service said it had received calls from people 50 miles (80km) away in Birmingham who had suffered connection problems.
Engineers' access to the building has been delayed because parts of the area are still unsafe.
Jamie Murray, who runs Northampton online business Pro Grips, said the disruption had been "catastrophic".
"Without doubt I'm losing trade. I need to get online to make changes and I can't," he said.
A Level 3 spokeswoman said: "A fire originating in a building adjacent to Level 3's network facility in Northampton spread to our facility, resulting in damage to equipment.
"Our local technicians are working to restore services as quickly as possible, and we are in close contact with all affected customers.
"At this time, we do not have an estimated time when all services will be restored."
She added the firm was unable to confirm exactly how many people had been affected.
O2 said: "We've identified a solution that involves re-routing traffic to an existing data centre.
"This remains a priority for us - we're working as quickly as possible to restore service and apologise for any inconvenience."