Northamptonshire crime victims 'sometimes feel let down'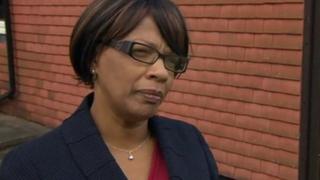 Action is needed to improve the service provided to crime victims who sometimes feel let down by Northamptonshire Police, says a new report.
The county's Victims' Commissioner Angela Sarkis said while there are many examples of excellent work by police with victims, improvement is needed.
She criticised the use of non-specialised officers investigating cases of sexual assaults.
She also called for a one-stop service for victims of anti-social behaviour.
Ms Sarkis, who has worked with the YMCA and the Church Urban Fund, was asked to compile the report by the Northamptonshire Police and Crime Commissioner Adam Simmonds, when he appointed her in April this year.
'Victims' voice'
After talking to victims and witnesses involved in the criminal justice system, she published the findings.
Ms Sarkis said in the report that she hopes it provides a "voice" for victims.
The report recommends:
A new child victim and witness programme "be developed to create services designed around the specific needs of young people"
Hate crimes should be "more effectively" managed with long term support for victims
Officers working on sexual assault cases should all have specialised training, as non-trained officers presented "significant risks"
The PCC should consider how the voices of black and minority communities are heard as they "consistently report dissatisfaction with how their concerns are dealt with by the police"
The courts should consider greater use of video links to reduce unnecessary delays and adjournments
Ms Sarkis added a new victim and witness service should be created which provides a "single point of contact to the entire criminal justice process, designed around victims' and witnesses' needs".
This service would work with the PCC to provide specialist services to victims of anti-social behaviour, domestic violence and other crimes, says the report.
The report also looked at whether Northamptonshire should become a "restorative justice county" - where a victim has the opportunity either in person, or less directly, to talk with the person who has committed a crime against them.
Ms Sarkis said in the report: "Restorative options should be seriously considered as a component of sentencing for all offences, where the victim wishes this to be the case."