Northampton's £7m bus station a 'confident statement'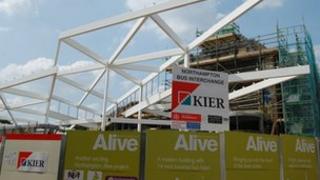 A new £7m bus station in Northampton will make a "confident statement" about the future of the town, a business leader has said.
Chris Garden, director of regeneration at West Northamptonshire Development Corporation (WNDC), made the remark as the new building was topped out.
It will be called North Gate Bus Interchange as it is on the site of an entrance to the town's former castle.
The topping out saw the laying of a slab on the building's highest point.
'Major milestone'
Construction work started in May at the site bordered by Sheep Street, Bradshaw Street, Silver Street and Greyfriars. The work is expected to be completed by spring.
David Mackintosh, leader of Northampton Borough Council, said: "This is a major milestone... which will help create a warmer welcome for visitors to our town."
The £7m scheme is jointly funded by Northampton Borough Council, the WNDC and Northamptonshire County Council.
Chris Garden, director of regeneration at WNDC, said: "The new bus interchange is more than just a transport facility; it is a confident statement about the future of Northampton town centre."
Michael Clarke, Northamptonshire County Council cabinet member for transport, highways and environment, said: "It's tremendously exciting to see this building taking shape and transforming this part of Northampton town centre."