Fairline Boats: 38 voluntary redundancies at Corby and Oundle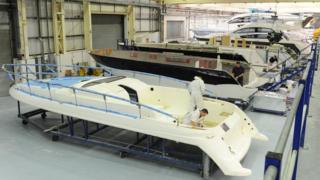 Job cuts at a luxury boat manufacturer have been achieved through 38 voluntary redundancies, the firm has revealed.
In June this year Fairline Boats, which employs about 700 people at Oundle and Corby, said it had invested £2.8m in streamlining production and was cutting up to 60 jobs.
A company spokesman told the BBC that 38 employees had decided to take voluntary redundancy.
The firm has shed more than 200 jobs over the past five years.
Fairline said its investment at Corby allowed it to adapt from eight integrated production lines to three mixed model lines.
This streamlining brought a reassessment of the number of employees needed, it claimed.