Wicksteed Park lake revamp to include 'pirate island'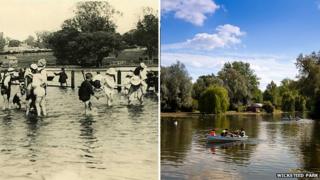 A £2m project to restore a family leisure park's lake will include the creation of a "pirate island" and large amphitheatre, its owners have said.
Work at Wicksteed Park in Kettering, Northamptonshire, begins on Monday and will involve draining and deepening the 90,000 sq m (969,000 sq ft) lake.
A beach area and new wildlife habitats will also be created.
The restoration at the 92-year-old park was given the go-ahead after it secured a £1m Heritage Lottery grant.
Its owners said the pirate feature would be made on the lake's largest island, with specific landing places to encourage children to go across on boats for an adventure.
A 1924 lakeside shelter will also be restored and new habitats for amphibians, bats, birds and reptiles will be made.
'Former glory'
Wicksteed's managing director, Alasdair McNee, said: "These are exciting times for the park and I believe that these improvements and additions would be just the sort of things Charles Wicksteed would have carried out if he was still alive today.
"This project will go much further than just restoring former glory and I am genuinely excited about all of the new activities and habitats that will be created around the lake, ensuring that it can continue to be enjoyed by future generations."
Wicksteed Park was founded in 1921 by Charles Wicksteed, who is known for inventing modern day play equipment such as the swing and the slide.
The lake was created for the park's opening and has been used for regattas, swimming, boating and water polo.
Its water is supplied by the River Ise, but over the years large amounts of sediment have collected, reducing the lake's depth to less than half a metre (20in) across much of its area.
The work is expected to be completed by the spring.