Silverstone loan interest to help children's services, council says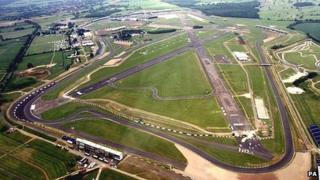 Interest received on a £13m loan to Silverstone will go towards improving children's services, Northamptonshire County Council has said.
The authority lent the money to the British Racing Drivers' Club (BRDC), which owns Silverstone, in 2010 so it could make improvements to the circuit.
BRDC announced on Wednesday it was repaying the loan after signing a £32m property deal.
Ofsted recently labelled the council's child protection service 'inadequate'.
BRDC borrowed the money, which rose from an initial £10m to £13m, after it was told by Formula 1 chiefs it would need to revamp parts of the south Northamptonshire circuit, including its pit lane.
'Financial challenges'
The loan is being repaid after BRDC sold a 999-year lease to MEPC to build a development including warehouses, hotels and a technical college on land alongside the circuit.
Heather Smith, deputy leader at the Conservative-led county council, said the money had come "at a very good time".
"We are facing huge financial challenges," she said.
"We have additional revenue to go back into helping run services and it certainly will be helping with children's services.
"The original loan was for four years, but it has been paid back in two. The interest will help us cope with additional pressures."
The council would not say how much interest it had received.