Silverstone racing circuit signs £32m development deal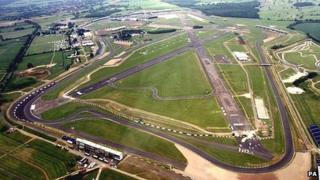 The owner of Silverstone racing circuit has signed a £32m deal for facilities to be built on its site.
The British Racing Drivers' Club (BRDC) has sold a 999-year lease to MEPC, which will build warehouses and hotels alongside the circuit.
A new technical college will also be built under the plans.
BRDC said a "suitable partner" had also been found to directly invest in the circuit and its facilities, with details being announced before October.
The developments form part of BRDC's "masterplan" for the site, which it says could create 8,400 permanent jobs.
'World-class centre'
BRDC said the deal also allowed it to pay off its loans from Lloyds and Northamptonshire County Council for the reconfiguration of the track in 2010 and the building of The Wing pit area in 2011.
Stuart Rolt, chairman of BRDC, said: "We are delighted to have reached an agreement with MEPC, which was selected on the grounds of its financial standing, reputation, the quality of the developments it has undertaken.
"We have every confidence that their vision for our land will see the realisation of a high-quality development."
MEPC chairman Chris Taylor said: "As a long-term investor we are delighted to have secured this opportunity to create a large, commanding commercial estate with a key technology driver which will benefit hugely from its location, infrastructure and association with the home of world motor racing."
The circuit held its first race in 1948 and has hosted the British Formula One Grand Prix 48 times.