Skip truck on Northamptonshire railway line causes delays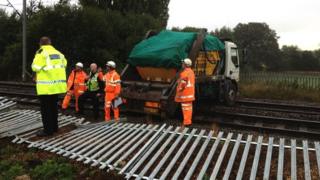 A man has been arrested after a skip truck was driven through a fence on to a railway line in Northamptonshire.
The truck is believed to have crossed a field before it stopped on the track at Church Brampton, between Northampton and Rugby, at about 07:40 BST.
Trains did not run again until the truck was cleared from the line at 10:25 BST.
British Transport Police said the 39-year-old lorry driver was arrested on suspicion of obstructing the railway.
Police said the truck went down an embankment before going through the fence and on to the track.
Network Rail said no-one was injured in the incident and neither the track nor the overhead cables were damaged.
The track, known as the Northampton Loop, is mainly used by London Midland trains and it is separate from the main line between London and the Midlands.