Downgrading roads in Northamptonshire could save cash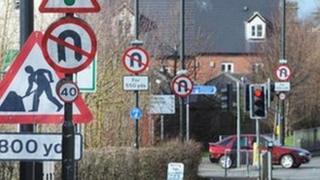 Roads in Northamptonshire could be reclassified to cut down the need for maintenance as part of a new strategy aimed at saving cash.
County councillors are being asked to look at the plans which could see some village roads narrowed, with passing places, to reduce their use by lorries.
Local people will be consulted on the ideas before councillors make a final decision.
The report on the scheme goes before councillors on 10 September.
'Reducing pressure'
A report to the council's cabinet committee says if the authority is allowed to the reclassify some routes it could "result in a reduction in the pressure on the revenue budget".
Two-way traffic could be reduced on roads "where we already receive many complaints that the road is being used by too many vehicles, by too many heavy vehicles and where the road was never designed to take such traffic", the report claimed.
"The other benefits of this approach, other than the obvious one of reducing the maintenance required to maintain them, is that they discourage 'cut through' and heavy traffic, in effect you can create a 'green lane' type of appearance which many communities request," says the report.
It adds: "This would not be done as a default position, but by consulting with a community where they have a number of such roads."
The study also looks at reducing the number of street signs to "declutter" views and save money.
The council also wants to look at which bridges, roads or footpaths could be closed where "suitable alternative" routes exist.