Northampton fountain to return after legionella contamination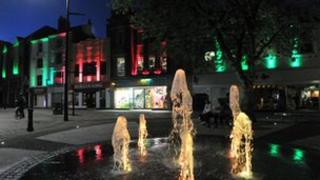 A Northampton fountain contaminated with the bacterium that causes Legionnaires' disease is to be made safer after a council consultation.
The Market Square water feature was turned off in August 2012 after traces of the legionella bacterium were found.
Nearly 60% of the 350 people who responded said they want the fountain remodelled and switched back on.
Northampton borough councillor Tim Hadland said he was "looking forward" to the fountain's return.
About £50,000 will be spent on remodelling the fountain before it is re-started next summer.
"Although the fountain was a popular meeting point for shoppers, we had no choice but to turn it off last year as the design was not suitable for the location," said Mr Hadland, council cabinet member for regeneration.
"Specialists have advised us on a way to remodel the fountain to make it safer, but we wanted to be sure that investing in remodelling the fountain was what people wanted."
Legionnaires' disease is a potentially fatal form of pneumonia and everyone is susceptible to infection.
Experts have recommended putting a raised pool around the water spouts to make contamination far less likely.
It will take about 16 weeks to revamp the fountain, which was built in 2010 and cost £98,000.