Daventry acid spill: Fire service warns firm over agents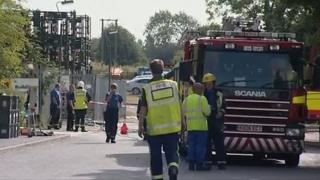 A firm at the centre of a 1,000-litre acid spill, which left staff trapped in their workplace for hours due to a chemical cloud outside, has been told to stock more neutralising agents.
Two police officers and two workers had to be treated after breathing in gases at the Metokote plant in Daventry, Northamptonshire, on Tuesday.
The fire service said the firm was not fully prepared for the spill.
Paul Kearns, of Metokote, said the firm would "review procedures if necessary".
Northampton fire manager Ronnie Rochester from Northampton's Mounts station said the firm should have "ensured a worst case scenario".
Workers spent four hours trapped inside their workplace because of the acid cloud.
One thousand litres of hydrochloric acid spilled, some of which leaked into Hackwood Road, forcing police to seal off the area.
The spill happened while the acid was being delivered to the Metokote plant. Mr Kearns said staff had received medical checks.
Two police officers who breathed in gases from the cloud have been sent home from hospital.
The spill created a "very large" acid cloud, fire crews said.
'More powder'
Mr Rochester said the spill caused no damage and had no environmental impact on the area, but said the firm "didn't have enough stocks" to deal with full scale of the spill and warned it should "get some more powder" to cope with future accidents.
Mr Kearns accepted extra agent had been needed when the acid started flowing onto the road.
He said: "The problem was dealt with efficiently and our staff did an excellent job.
"We were commended by the fire service for our response, and the way we dealt with it and contained it was exemplary.
"Following any issue we do review and revise procedures if necessary and we will review what steps to take next".
The Health and Safety Executive said it would be investigating the incident.