Kettering Hospital: Chief executive quits over A&E targets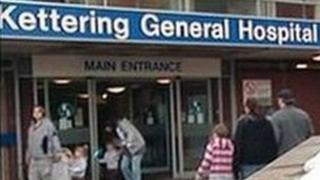 A chief executive has resigned at a hospital in Northamptonshire after failing to achieve Department of Health targets for A&E treatment.
Lorene Read has stepped down from the post at Kettering General Hospital Trust she had held for two years.
Clare Culpin, director of nursing and deputy chief executive, will take over temporarily while the trust seeks to make a permanent appointment.
Hospital chairman Steve Hone said Ms Read had shown exceptional commitment.
"However the trust has been unable to sustainably achieve the national four-hour accident and emergency transit time target.
"The hospital continues to experience continued pressure regarding its financial position.
"Lorene believes, as accountable officer, that she should accept ultimate responsibility for that performance.
95% target
"She has guided the trust through an exceptionally difficult period both within the trust and in the wider health economy.
"I would like to offer the formal thanks of the board for all her work on our behalf. We wish her every success for the future."
The Department of Health A&E transit time target is to admit to a hospital bed, or discharge, 95% of patients within four hours of arrival in the department.
It is not the amount of time a patient waits to see a doctor.
For the three months April to June 2013, the trust delivered an A&E transit time of 85.2%.
So far from July to August 2013, the trust has delivered 93%, a spokesman said.