Corby Cube legal action 'a growing inevitability'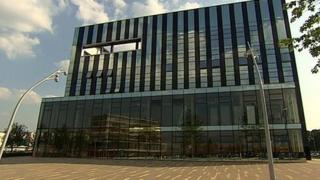 Action to recover extra money spent on a civic building in Corby is "a growing inevitability", a council says.
Costs for the Cube, which opened in 2010 and houses council offices, a library, theatre and register office, have risen from £35m to £47m.
Now an extra £600,000 is needed to fix leaking roofs and complete work on possible office space in the building.
Chief executive Norman Stronach said the council would "seek redress" from the architect and contractor.
The council itself was heavily criticised in an audit report in June for its "poor financial management" about the Cube project and three others.
In 2012, architect firm Hawkins Brown considered suing the council over one of the authority's own reports into the Cube alleging it was defamatory, but it later withdrew the threat.
Mr Stronach said: "We've been in negotiations with both parties for some time now... we're at an impasse and we need to break out of that.
"The roof leaks, particularly in the winter period, and we don't want to undergo another winter as we had last year - so we want to complete the building and make the roof watertight."
Asked about the possible legal action, Roger Hawkins from architect firm Hawkins Brown said: "No comment."
He added: "We've continued to work with Corby Borough Council to continue to resolve the issues they've had."
Contractor Galliford Try said it did not want to comment.
A council report recommending the extra money to finish off work on the Cube goes before councillors on 3 September.