Call to protect Edwardian tram depot in Northampton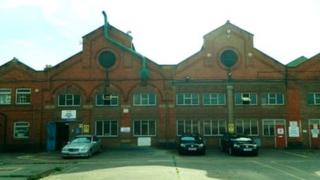 An Edwardian tram depot should be protected with listed status and turned into a heritage and enterprise centre, say local residents.
The St James depot in Northampton, which later became a bus depot, is being sold by First Group.
The St James Residents' Association has called on the Northampton Borough Council to save the depot, built in 1904, for community use.
The council said it was planning to meet with the residents' association.
Graham Croucher, secretary of the association, said he would like to see the building converted to promote small businesses with separate areas. for exhibitions and community activities
He called on the council to look at ways to protect the building, such as pursuing listed status with the Secretary of State for Culture, Olympics, Media and Sport.
David Mackintosh, leader of Northampton Borough Council, said: "It is great that the Residents' Association has aspirations for their local community and I will be meeting with them soon to discuss the future of the site.
"Because of its key position at the gateway to the Enterprise Zone, we would like to see something that balances their aims with the need to ensure that this site is used to develop business and create jobs in a way that respects its heritage."