Wadenhoe hydro power scheme for River Nene approved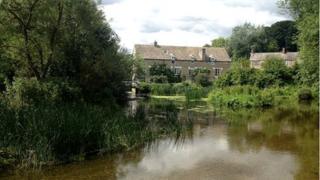 A hydroelectric power scheme in a rural village river has been given the go-ahead, despite it sparking complaints from residents.
The generator will be installed on the River Nene at Wadenhoe in Northamptonshire.
Residents said it would be unsightly, noisy and could harm wildlife.
East Northamptonshire Council planners said there would be "notable alterations" to the landscape, but it would not be "significantly harmed".
The scheme involves a water channel being cut and a 6m (19ft 6in) steel screw being placed in the river to power the generator, which would be placed in a hut.
It will generate enough power for the equivalent of 10 homes.
It received no objections from the Environment Agency or the Wildlife Trust.
Residents said it would have a "negative impact in visual terms to what is one of the most attractive and comparatively untouched landscapes in the region".
Applicant Stephen Hall of Manor Farm has declined to comment.