St Edmund's Hospital in Northampton to keep listed status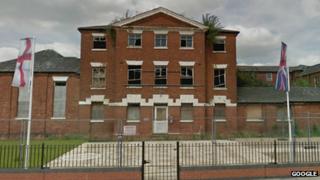 A derelict Northampton hospital will keep its listed status despite its owners claiming the original grading was flawed, it has been ruled.
A bid to remove St Edmund's Hospital's Grade II listing was received after new evidence suggested its modern extension should have made the grading void.
But the Department for Media Culture and Sport upheld Northampton Borough Council's decision to keep its status.
Owner Kayalef Holdings, based in Cyprus, was unavailable for comment.
The Wellingborough Road site was built as a workhouse in the 19th Century and designed by Sir George Gilbert Scott. It became a hospital in the 1930s.
It has been empty since 1998 and plans to convert the site into offices and retirement homes by former developers Rochmills in 2010 were withdrawn shortly after work began.
Planning permission on the site has now lapsed, so any future work would require the consent of the borough council.
Tim Hadland, cabinet member for regeneration, enterprise and planning, said: "Owning a listed building comes with a duty to protect it, so we will continue to talk with the land owners about their plans and how they can bring the site back into use."